We would like to offer you the possibility to update the software of your ACUS M1.
The latest software version is v1.10. All machines with serial number 00626 or higher are already shipped with the latest software and do not need to be updated. All machines with a lower serial number should only be updated if you have observed problems with your machine.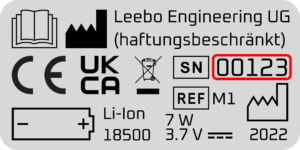 For the update you need a Windows PC or a MAC, a micro USB cable and a program that you will receive from us. Simply fill out the following form.
The serial number can be found on the label inside the battery compartment of your machine. It consists of 5 digits.